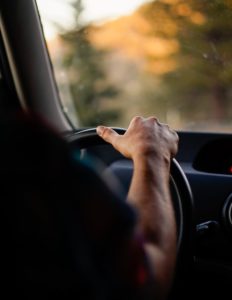 A better question is, should I text while driving in Virginia? Texting while driving in Virginia is a secondary offense codified in Va Code § 46.2-1078.1. It states:
A. It shall be unlawful for any person to operate a moving motor vehicle on the highways in the Commonwealth while using any handheld personal communications device to:

1. Manually enter multiple letters or text in the device as a means of communicating with another person; or

2. Read any email or text message transmitted to the device or stored within the device, provided that this prohibition shall not apply to any name or number stored in the device nor to any caller identification information.
However, the Virginia Code goes on to explain that texting while driving is a secondary offense. UPDATE: As of July 2013, texting while driving has been made a PRIMARY offense.
No citation for a violation of this section shall be issued unless the officer issuing such citation has cause to stop or arrest the driver of such motor vehicle for the violation of some other provision of this Code or local ordinance relating to the operation, ownership, or maintenance of a motor vehicle or any criminal statute.
Because texting while driving in Virginia is a secondary offense, this means that you can not get a citation for texting while driving unless the officer has another reason to stop or arrest the driver. Virginia's seat belt law codified in Va Code § 46.2-1094 (F), is also a secondary offense. This means that you can get a citation for texting while driving if the officer catches you speeding or forgetting to use your blinker.
Violation of the no texting law is hard to prove because Va Code § 46.2-1078.1 does not prohibit dialing a phone number. In cases where a phone's dial pad also serves as a keyboard, it would be hard for an officer to prove what exactly the driver was doing on his phone. Because of this, in some localities like Fairfax, officers are charging drivers with failure to "pay full time and attention," an ordinance created by local county or town authority rather than under the state code. In the localities where I practice often, such as Virginia Beach, Chesapeake, and Norfolk, especially in cases where there is an accident, officers will frequently charge a driver with reckless driving for failure to maintain control of their vehicle if distracted driving or swerving is involved.
Studies show that driving while texting increases the likelihood a driver will get into an accident. Crashes involving distracted drivers accounted for 16% of fatalities in 2009 and 2008. Studies also show that drivers overestimate their ability to multitask. Please do yourself and everyone around you a favor by refraining from texting while driving, since it is not a safe thing to do.
Some argue that the texting while driving in Virginia law should be made a primary offense. I'm not convinced that is necessary. It would be wise for drivers to restrain their cell phone usage for the sake of promoting the common good, rather than having law makers create new laws for every situation. Drivers should be educated about distracted driving and understand that it applies to many other situations as well besides cell phone usage.
Please call 757-932-0464 if you need a consultation for your case in Virginia.