Virginia holds drivers to a high standard and is tough in its penalties.
In Virginia, a reckless driving offense is considered a Class 1 misdemeanor criminal charge. A reckless driving conviction is in the same category as a DUI conviction! Depending on the reason the officer charged you with reckless driving in Virginia, you may face jail time, a very high fine, and up to 6 months loss of your driver's license. A Class 1 misdemeanor can carry a penalty of confinement in jail for up to twelve months and a fine of up to $2,500, either or both. A conviction of reckless driving in Virginia will give you 6 points if you have a Virginia license and stays on your record for 11 years. While a conviction may increase your insurance premiums, most of my clients are primarily concerned about avoiding a criminal misdemeanor conviction, which can negatively impact employment opportunities and stays with you for life. If you are wondering if you really need a lawyer, read this article.
You can get a reckless driving in a number of ways, for example: reckless driving by speed or for failure to maintain control of your vehicle, passing a stopped school bus, or for endangering people or property (the broad catch-all category). Here are the most common types: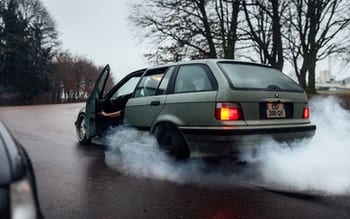 Often times, in accident cases, I am able to challenge the evidence that the court considers because the officer was not an eyewitness to the accident. Case law does not permit a judge to infer guilt just because an accident occurred. If the judge considers that the evidence is enough to find the defendant guilty of the reckless driving charge, there may still be opportunity for us to argue for your conviction to be lowered to a lower level offense. There may be mitigating factors in your case such as a good driving record, defective equipment, or a legitimate emergency. I have helped many clients get their charge reduced to improper driving, which only carries three DMV points, and is removed from a record after three years.
Improper driving is a remedy available to the courts, although police officers do not charge people with "improper driving."
"Notwithstanding the foregoing provisions of this article, upon the trial of any person charged with reckless driving where the degree of culpability is slight, the court in its discretion may find the accused not guilty of reckless driving but guilty of improper driving. However, an attorney for the Commonwealth may reduce a charge of reckless driving to improper driving at any time prior to the court's decision and shall notify the court of such change. Improper driving shall be punishable as a traffic infraction punishable by a fine of not more than $500." – Virginia Code § 46.2-869
It is important that you consult with an attorney and get appropriate counsel before your trial.
Please call (757) 932-0464 for a free consultation.  
Click here for recent case results for clients charged with Reckless Driving and other traffic related charges.
Our law office handles traffic and criminal defense matters for clients in the greater Hampton Roads area.
Or call (757) 932-0464 to schedule a free consultation for your case.