Hit and Run Law in Virginia
Failure to Report an Accident – Virginia Traffic Defense Attorneys
Hit and Run Traffic Defense Attorney
If you have been charged with a Hit and Run under Va. Code § 46.2-894 or § 46.2-896, this is considered a very serious criminal charge in Virginia. The law which is also known as "Failure to Report an Accident" involving injury or death or damage to attended or unattended property could carry the possibility of up to 10 years in jail! You should speak to a Virginia traffic defense attorney about your case as soon as possible.
What is a Hit and Run Charge in Virginia?
Virginia Hit and Run law is fairly complicated, but most often it is charged when a driver gets into an accident and then flees the scene. If you are driving in Virginia and get into a car accident, you have a duty to stop as close to the scene of an accident as possible without obstructing traffic. You must remain at the scene as long as it takes to (1) exchange information with the other driver and law enforcement (you must give your name, address, driver's license number, and vehicle registration number), and (2) you must give reasonable assistance to any person injured in the accident, including taking an injured person to the hospital if necessary. If you leave the scene before you do these things, most likely you will be charged with a felony or misdemeanor hit and run under Va. Code § 46.2-894 or § 46.2-896. Read on to learn more about what the penalties and possible defenses are for a Hit and Run charge in Virginia.
What is the Penalty for a Hit and Run Charge in Virginia?
While many of us know these types of offenses as "Hit and Run" charges, Virginia law refers to these kinds of charges as "Failure to Report an Accident" involving injury or death or damage to attended or unattended property. Most often, drivers that flee the scene of an accident are either charged under either Va. Code § 46.2-894 or § 46.2-896. Typically the penalty depends on whether the accident involves damage to "attended" property or "unattended" property, the amount of the damages, and the type of damages (property damage or personal injury).
What is "Attended Property?"
"Attended property" is property that is occupied. Usually this involves another vehicle, but it could be any kind of occupied property. In the event a person is killed or injured, or if there is damage to attended property the charge will be under Va. Code § 46.2-894. Virginia law treats offenses involving attended property much more seriously than those involving unattended (unoccupied) property. Even if the personal injury component is ever slight, it usually elevates the charge to a felony. Take a look at the chart below to see the possible penalties if you have been charged under Va. Code § 46.2-894.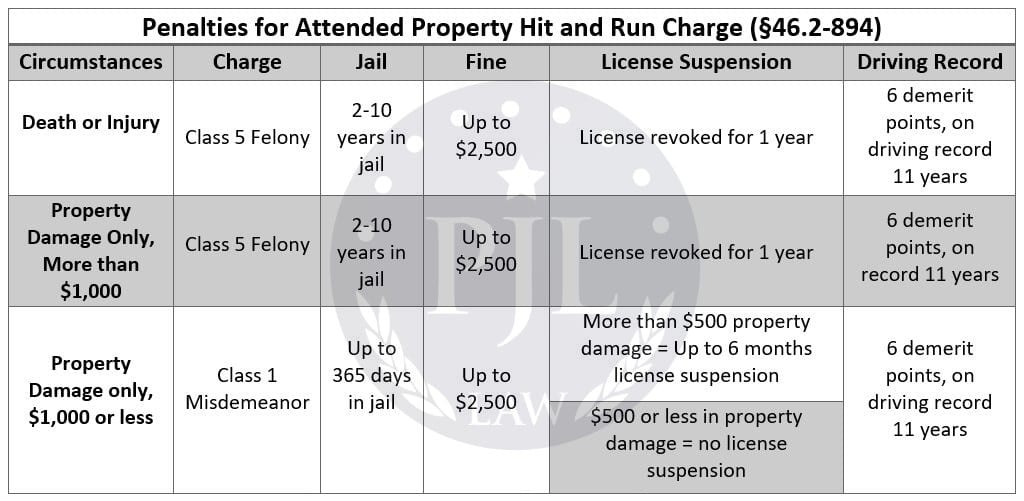 What is the Penalty for a Hit and Run with Unattended Property?
As a driver in Virginia, if you are involved in a car accident, but there is nobody nearby, you are still required under law to make a reasonable effort to find the owner of the property to exchange information. In the event the driver cannot find the property owner, the driver must leave a note in an obvious place, at the scene of the accident. The note must contain all the driver's information, in addition to "the date, time, and place of the accident and the driver's description of the property damage."
Finally, the driver must make a report of the accident with the Virginia State Police, or local law enforcement. If the driver fails to fulfill any of these requirements, he may be charged with Hit and Run under Va. Code § 46.2-896, for failing to report an accident involving damage to unattended property. The penalties can be quite severe, as you can see on the chart below.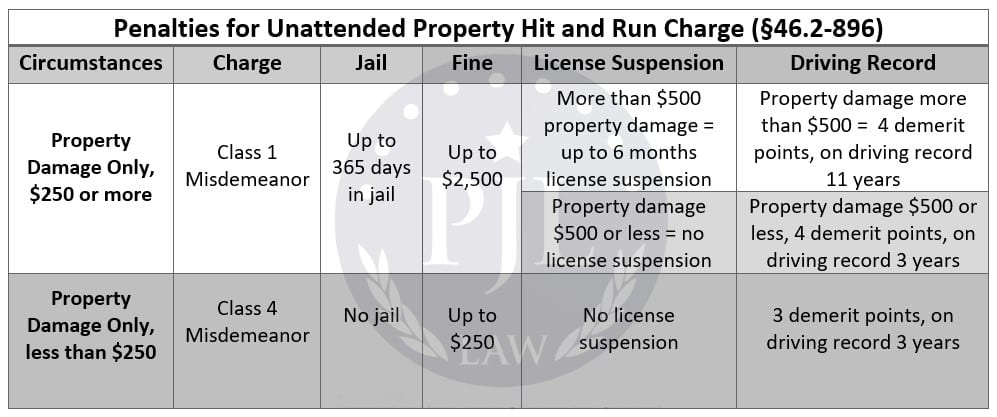 Can Passengers be Charged with Hit and Run?
Yes! Even passengers can be charged with a crime, under either Va. Code § 46.2-895 (for death/injury or attended property) or § 46.2-897 (damage to unattended property). Every passenger in the vehicle over the age of 16, with knowledge of the accident, must make a reasonable effort to report the accident to state or local law enforcement within 24 hours of the accident. Failure to do so may result in criminal charges with very serious penalties, ranging from a Class 4 Misdemeanor for minor property damage, all the way to a Class 6 Felony for injury or death to another person, or more than $1,000 property damage to attended property!
What are the Defenses to a Hit and Run Charge?
The prosecution is required to prove every element of the charge against you beyond a reasonable doubt. This is a very high standard, made even more difficult because there are so many different elements of the statute. Often we look at whether they can identify an accused as the driver of a vehicle, based either on eye witness testimony or admissions from the accused. We have also had hit and run charges completely dismissed where a driver did not know he was involved in an accident. He did not feel the impact of the accident since his truck was much larger and heavier than the other vehicle damaged.  
In the event the case is based on property damage, the state must properly prove the legal amount of the damage. This is not always so easy and your defense attorney will know how to make the appropriate evidentiary objections.
Most of the duties under the statute require the driver or passenger to use reasonable efforts to comply. This leaves a good deal of room for interpretation, which your defense attorney will be prepared to argue where appropriate. If you were injured or otherwise incapacitated at the time of the accident, different duties apply. Likewise, if you were a passenger charged with the offense and the driver of the vehicle was injured or otherwise incapacitated, different duties apply. 
Should I Hire an Attorney for a Hit and Run Charge?
Every case is different, and the facts of each are unique. It will be important to discuss the facts and circumstances with a Virginia traffic defense attorney that practices in the jurisdiction where your charge is pending. We are often in the courts of Virginia Beach, Chesapeake, Norfolk, Northampton, Accomack, and the broader Hampton Roads area. Many times we are able to negotiate agreements with the prosecution for reduction or dismissal of a charge where appropriate. For other cases where the facts are not so good, we can argue for little or no jail time, and reduced or no license suspension. We offer free initial consultations to discuss your charge with you to see whether hiring an attorney is right for you.
Schedule a Free Consultation
The lawyers at our office in Virginia Beach handle traffic and criminal defense matters for clients in the greater Hampton Roads area.
Or call (757) DUI-HELP (384-4357) to schedule a free consultation for your case.