Norfolk Federal Court Reckless Driving Defense
US District Court at Norfolk Reckless Driving Defense
If you were charged with reckless driving on federal land in Norfolk, Virginia, such as a military or naval base, you will be summoned to appear in Norfolk Federal Court, or the Walter E. Hoffman United States Courthouse for the Eastern District of Virginia. The courthouse is located at 600 Granby Street, Norfolk, VA 23510. There are several judges for the Eastern District Court in Norfolk. You are most likely to have your case heard by a Magistrate Judge. The current Magistrate Judges are Judge Douglas E. Miller, Judge Lawrence R. Leonard, and Judge Robert J. Krask. These judges rotate their duty on the bench, and so it is hard to predict which judge you will get. This is why it is best to make sure you are fully prepared for a trial with any given judge.
How Serious is a Reckless Driving Ticket?
A reckless driving charge is very serious. In Federal Court, the maximum punishment is up to 12 months in jail, up to a $5,000 fine, and possible driver's license suspension. Typically if you have been charged with reckless driving on a naval base, you will see two code sections. The first is the Virginia code, which might be a code section such as §46.2-862, which is the Virginia state code for reckless driving by speed. The second is 18 U.S.C. § 13, which is the United States Code that allows the federal government to prosecute you under Virginia state law if you committed a reckless driving offense on a military base located in Virginia.
The Norfolk Federal Court is significantly more formal than many state courts. If you have ever been to state court for a traffic ticket, it is a relatively relaxed and informal process. You will need to be much more prepared for your Federal Court reckless driving charge. Specific questions about court procedures can be found here. Generally, you should arrive early. Parking can be tricky, and you will be prohibited from bringing certain things into the courthouse. Your defense attorney will know how to make sure you are fully prepared to come to court.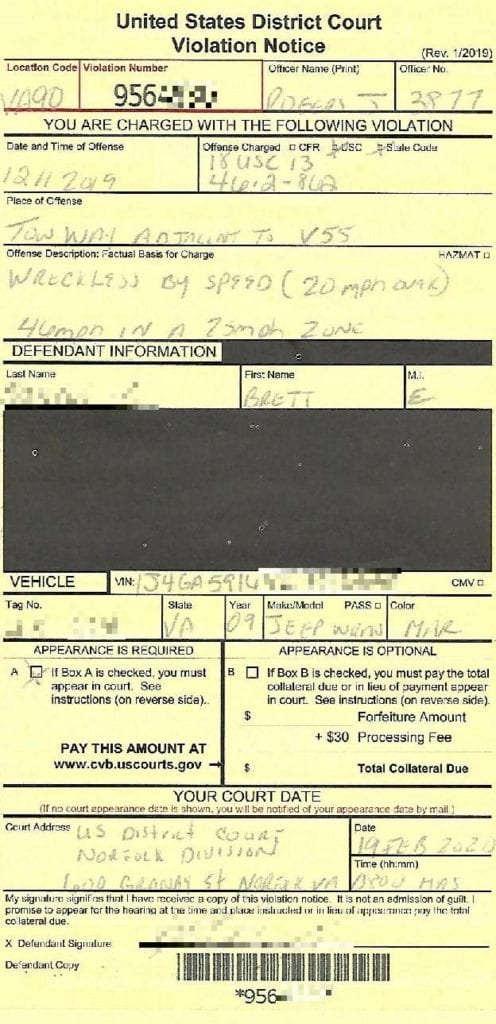 Norfolk Federal Court Traffic Court Docket
Typically, traffic cases and reckless driving cases are heard in the morning. Because the security line can take some time to get through, case times are usually staggered between 8:00 a.m. to 9:00 a.m. You should check your summons for the exact date and time for your required appearance. It is very important that you are present for your court date at the set time. Failure to appear can result in additional criminal charges.
United States Attorney Involvement
The United States Attorney's Office will have an attorney assigned to prosecute the reckless driving charge against you. Your defense attorney should be experienced with negotiating with the United States Attorney's Office in order to seek a reduction or dismissal of your Norfolk Federal Court reckless driving charge. Not every case can be successfully resolved with an agreement, but many can be.
Possible Reckless Driving Defenses
If you are still wondering, "
Do I really need an Attorney?", please read this article
. I would be glad to go over the specifics of your case with you. In cases where there is enough evidence to find you guilty, I can make an argument to have your charges reduced based on mitigating factors.
for a free consultation on your reckless driving charge