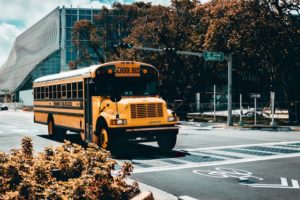 A driver that passes a school bus can be charged with reckless driving under Va. Code § 46.2-859.  Reckless driving is a class 1 misdemeanor.  This means a disposition could include a potential fine of up to $2,500, and a potential jail sentence of up to 12 months.  The offense carries six DMV points and stays on record for 11 years.
Va. Code § 46.2-859 explains:
"A person driving a motor vehicle shall stop such vehicle when approaching, from any direction, any school bus which is stopped on any highway, private road or school driveway for the purpose of taking on or discharging children, the elderly, or mentally or physically handicapped persons, and shall remain stopped until all the persons are clear of the highway, private road or school driveway and the bus is put in motion; any person violating the foregoing is guilty of reckless driving."
The Commonwealth has to prove beyond a reasonable doubt that a driver violated a particular statute. The statute requires school buses to be equipped with warning devices, such as red warning lights, a warning sign with flashing lights, and a crossing control arm. The bus must have black letters at least eight inches high on the front and rear thereof stating "School Bus." The statute explains: "Only school buses which are painted yellow and equipped with the required lettering and warning devices shall be identified as school buses."
There are other defenses to a passing a school bus charge. For example, if a driver was going the other direction and a median divides the road (either a physical barrier or an unpaved area), he has not violated the statute. A driver has not violated the statute if a law-enforcement officer or uniformed school crossing guard instructs him to pass the bus.
A driver charged with reckless driving for passing a school bus could have been charged with a simple traffic infraction for passing a school bus under Va. Code 46.2-844. Under that section, the offense would be a traffic infraction with a fine of $250.00. Instead of receiving points for 11 years, the points stay for only 3 years. The code sections are very similar in nature except that penalty is a traffic infraction and one is a criminal misdemeanor charge.
As you can see, a law enforcement officer has a lot of discretion when he or she charges a driver for passing a school bus. Regardless of which code section a driver is charged under, the reckless driving or traffic infraction code section, the Commonwealth must meets its burden of proof and prove its case beyond a reasonable doubt. When I represent a client, I spend the time to get the facts from my client, so that I can present mitigating evidence to the judge. This may include a client's driving record, a client's cooperative spirit with the police officer, road conditions, the extent of any collisions, or the fault of others involved at the scene.