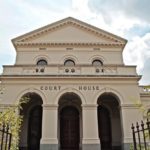 Norfolk's Commonwealth Attorney Greg Underwood, the chief prosecutor for the city was arrested by a state trooper Wednesday night and charged with three misdemeanors: DUI (Va Code § 18.2-266), refusal to take a breath test (Va Code § 18.2-268.3), and carrying a handgun while intoxicated (Va Code § 18.2-308.012). According to PilotOnline,
"Commonwealth's Attorney Greg Underwood cut through a work zone trying to take the exit off Interstate 264 onto Brambleton Avenue about 8:50 p.m. Wednesday, according to Virginia State Police and court records. Trooper James Ogden was sitting in his patrol car in the work zone when he saw Underwood in his Toyota 4Runner… According to court records, the trooper smelled a strong odor of alcohol, and Underwood had slurred speech, was swaying or stumbling and said he had been drinking."
It is good to know that the Commonwealth attorney is not above the law and that a Virginia State Trooper had the guts to arrest Mr. Underwood. Trooper Ogden took Underwood to Virginia Beach for booking to avoid conflict of interests with the Norfolk magistrate's office. Still, Mr. Underwood is innocent until proven guilty. He is scheduled to appear in Norfolk's General District Traffic Court on December 13, 2013 at 11 a.m. A special prosecutor, not from the Norfolk Commonwealth Attorney's office, will be prosecuting the case.
It will be interesting to see how this will impact the November 5th elections. Mr. Underwood is running unopposed for re-election for the position of Norfolk's Commonwealth Attorney. It is said that he does not plan to resign from his position or withdraw from his re-election race. It is said that Norfolk defense attorney Jon Babineau, a democrat, may consider launching a write-in campaign for the Nov. 5 election. I wonder if any other takers will step up to the plate. In the 2009 special election, Norfolk lawyer John Coggeshall challenged Underwood as a Republican and got 45 percent of the vote.