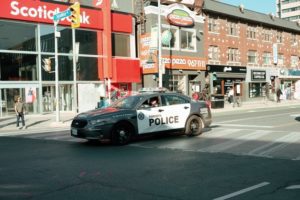 A Waynesboro police officer, Officer Shamica R. Spears, has been charged with reckless driving after being involved in a car accident with a 71 year old woman. Officer Spears, 27, is charged with misdemeanor reckless driving according to the Waynesboro Police Department's press release. The officer was on duty at the time of the accident and responding to a report of domestic violence. Capt. Kelly Walker stated that he was not at liberty to discuss how fast Spears was going just prior to impact because of Spears' upcoming case on the reckless driving charge.
Capt. Walker explained, "Reckless driving is a fairly common charge in collisions, and covers a wide array of driving actions that result in a crash." Capt. Walker knows it is fairly common for a driver to be written up for reckless driving at the scene of an accident. Unfortunately, drivers in Virginia often find themselves charged with a criminal misdemeanor charge after being involved in an accident, almost as though it was police department policy that someone be given a summons at the scene of any accident.
I do not know all of the facts of the Spears case, but it is nice to know a police officer was held to the same standard normal drivers are held to, that a police officer can be charged with reckless driving too. Whether or not Spears is guilty or not will be determined in court. Officer Spears needs a defense attorney to make sure that the charging officer who wrote the summons can prove to the General District Court Judge that Spears broke the law. Officer Spears is not guilty until the Commonwealth proves its case according to the required 'beyond a reasonable doubt' standard.