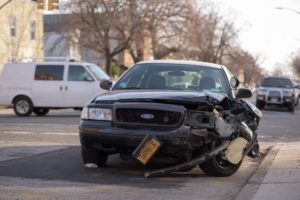 If you received a reckless driving ticket summons at the scene of an accident, you may be able to beat your reckless driving charge with the help of an attorney. Often times police will give a reckless driving summons to a driver at the scene of an accident. But just because an accident occurred does not mean that the driver caused the accident. It is unfortunate that drivers need to spend money on an attorney to make sure they don't get convicted of a criminal misdemeanor charge of reckless driving.
In the case of Powers v. Commonwealth (117 S.E.2d 628, 211 Va. 386), the Supreme Court of Virginia reversed the lower courts for finding a driver guilty of reckless driving when he was involved in a singular vehicle accident. In that case, the defendant's car traveled an erratic course for more than 900 feet and struck the trees with such force that the motor was thrown from it.
The Supreme Court of Virginia explained:
"We have no way of determining from the evidence in this record how and why the accident happened. The momentum of the automobile and its erratic course may be attributed to the accelerator sticking or a defect in the car's steering mechanism over wich the defendant had no control. The defendant may have suffered a sudden illness, or he may have been confronted with a sudden emergency not caused by his own negligence."
As stated in the Powers case, just because an accident occurred is not enough to convict a driver of reckless driving. Evidence of skid marks and other observations at the scene of an accident may leave too much to speculation and conjecture. In reckless driving cases involving an accident, I look for particular facts, such as the number of cars involved in the accident, whether there are any witnesses that can testify to what occurred, and what exactly a driver admitted to the law enforcement officer. It is better to have my client not testify at all if we can get the cased dismissed right after the Commonwealth presents its evidence and the Commonwealth still has not proved every essential element of the offense beyond a reasonable doubt.