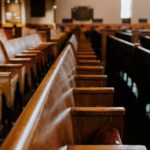 In Virginia, a reckless driving charge is considered a criminal misdemeanor charge. At the time of your stop, a law enforcement officer will make you sign a summons promising that you will appear in court. If you do not appear in court on the date of your trial, a judge may hold the trial in your absence or he may issue a capias.
The judge may hold your trial in your absence and find you guilty without you being present. Your final disposition would be marked "Guilty In Absentia." Judges may be extremely harsh on a defendant who does not appear for a reckless driving charge since they view that as disrespect for the court. One lady that did not appear in Newport News for a reckless driving charge following an accident had her license suspended for six months.
Or, the judge may issue a capias or bench warrant for your arrest and charge you with the additional crime of "failure to appear." Failure to appear for a reckless driving charge is a Class 1 misdemeanor in Virginia. Penalties for failure to appear can include up to 12 months in jail and $2,500 in fines. (See VA Code § 19.2-128.) Usually, a judge will issue a bench warrant if he thinks your original charge may warrant jail time.
If you have already missed your court date, you can view your court case online to see what happened. It may not be too late to appeal your case. You have ten days from the conviction date to note your appeal with the General District Court.