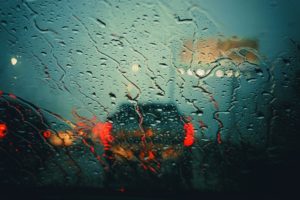 Hydroplaning is neither reckless driving nor improper driving!
Recently in the news it was reported that a car hydroplaned into the police cruiser of a state trooper in Newport News while travelling on Interstate 64. The driver of the vehicle was charged with reckless driving for failure to maintain proper control of the vehicle under Virginia Code § 46.2-853. Thankfully, no one was injured in the accident. If the facts in that case show that the driver hydroplaned due to no fault of his own, his defense attorney should argue that the charge should be dismissed (as opposed to reduced to improper driving).
Earlier this year, on February 19, 2013, the Court of Appeals of Virginia issued an opinion concerning a case with similar facts. In Berger v. Commonwealth (Record No. 0445-12-4), the only explanation for an accident that occurred was that the driver "hit a patch of water and hydroplaned into the median." The Court of Appeals determined that there was no evidence in the record that showed reckless or negligent behavior on the driver's part. In that case, the court determined that even a conviction for improper driving was not appropriate and dismissed the driver's conviction for improper driving.
In cases where there is an accident caused by a sudden emergency and the driver is charged with reckless driving, a judge needs to be informed concerning all the facts of the case, as well as any relevant case law, so that he can make the proper decision according to the rule of law. I would not ask for a reckless driving charge to be reduced to improper driving if the facts of the case and the case law call for a dismissal. Anything less would be asking the judge to split the baby in half.