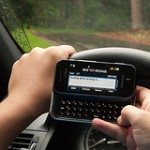 (UPDATE: This law was repealed on January 1, 2021. Merely holding a cell phone while driving is now unlawful. Read about that change here.)
It used to be that texting while driving was a secondary offense, which meant that law enforcement could only cite you for that offense if they had another reason to stop you. But as of July of 2013, texting while driving is now a primary offense.
Va Code § 46.2-1078.1 states that a driver cannot manually enter multiple letters or texts, and read email or text messages while driving. Drivers are still permitted to use their hands to dial a phone call. There even is an exception for those using their phones to get directions using GPS.
Still, it is wise to avoid using your phone while driving since studies show that phone use while driving increases the rate of accidents. Furthermore, law enforcement officers do not need to know exactly what you are doing on your phone to issue a summons and you will find yourself in court.
Fines for texting while driving have also been raised from $20 to $125 or $250:
§ 46.2-1078.1. Use of handheld personal communications devices in certain motor vehicles; exceptions; penalty.
A. It is unlawful for any person to operate a moving motor vehicle on the highways in the Commonwealth while using any handheld personal communications device to:
1. Manually enter multiple letters or text in the device as a means of communicating with another person; or
2. Read any email or text message transmitted to the device or stored within the device, provided that this prohibition shall not apply to any name or number stored within the device nor to any caller identification information.
B. It is unlawful for any person while driving a moving motor vehicle in a highway work zone to hold in his hand a handheld personal communications device.
C. The provisions of this section shall not apply to:
1. The operator of any emergency vehicle while he is engaged in the performance of his official duties;
2. An operator who is lawfully parked or stopped;
3. The use of factory-installed or aftermarket global positioning systems (GPS) or wireless communications devices used to transmit or receive data as part of a digital dispatch system; or
4. Any person using a handheld personal communications device to report an emergency.
D. A violation of subsection A is a traffic infraction punishable, for a first offense, by a fine of $125 and, for a second or subsequent offense, by a fine of $250. A violation of subsection B is punishable by a mandatory fine of $250.
Be safe out there!