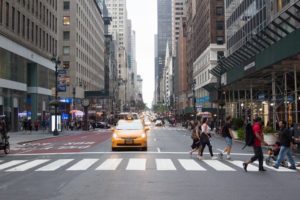 DISCLAIMER – EACH CASE IS UNIQUE AND CASE RESULTS DEPEND ON YOUR INDIVIDUAL SITUATION. CASE RESULTS DO NOT GUARANTEE OR PREDICT A SIMILAR RESULT IN ANY FUTURE CASE UNDERTAKEN BY THE LAWYER.
My client had his traffic violation charge of failing to yield to a pedestrian dismissed today after we plead not guilty to the charge. I was able to point out to the judge that Virginia Code § 46.2-924, which requires drivers to yield to pedestrians, also requires that "No pedestrian shall enter or cross an intersection in disregard of approaching traffic." Unfortunately an accident occurred and a person was injured, but the Commonwealth has to prove its case beyond a reasonable doubt and there was serious doubt in my client's case.
Often times law enforcement officers will arrive at the scene of an accident and write a ticket to a driver because an accident occurred. They were not witnesses to the accident itself and do not know for sure what happened. The police officer or trooper writes a summons to the party he thinks may be at fault based on his best understanding of what happened. Because he didn't see what happened, he does not know the full truth of what happened. From his viewpoint, he is just doing his job and if there is a dispute as to what happened, the judge can weigh the evidence at court and determine what really happened.
As I mentioned before on a guest post on my friend Andrew's website, driver's should fight even small traffic charges since a finding of guilt can adversely affect a civil suit against you. The other side may argue that because you were guilty in traffic court, you should be liable in civil court. So as much as a hassle it may be for you, it may be wise for you to fight your pending traffic infraction charge, even if it is not a criminal misdemeanor charge like reckless driving, rather than prepay it online.
I enjoy working with police officers and helping them to see both sides of the story. I also enjoy helping my client's win, even on simple traffic ticket charges. It is always nice to get a win in court! Good luck.