DUI Defense Attorneys Within the Virginia Beach Area
Professional DUI Attorneys in Virginia Beach
We're DUI attorneys in Virginia Beach, Virginia. Partner with our firm to get help from trusted DUI lawyers in Virginia Beach. 
What is a DUI Charge in Virginia Beach?
Virginia Beach issues more DUI tickets than any other other jurisdiction in Virginia. In Virginia, you are presumed to be intoxicated if your blood alcohol content (BAC) is 0.08% or higher. If you are found to be operating a vehicle while your BAC is at 0.08% or higher, you will be arrested for DUI. Even if the officers do not administer a preliminary breath test to determine BAC, they can still charge you with DUI based on field sobriety tests. Because of this, it is important to hire an experienced lawyer who can review the Commonwealth's evidence against you and fight for your rights.
What are the Penalties for Reckless Driving in Virginia Beach?
DUI charges come with high penalties. Therefore, it is in your best interest to hire an experienced DUI lawyer to help you fight for your rights. If you are found guilty of a first offense DUI charge in Virginia Beach, you may 1) serve up one year of jail time 2) pay a fine of up to $2,500, 3) lose your license for up to 12 months, 4) be required to complete Virginia Alcohol Safety Action Program, and 5) be required to use an ignition interlock system to get a restricted license. If your BAC is 0.15% or higher, you will serve mandatory jail time. 
Additionally, repeat offenders can expect harsher penalties: a second offense DUI carries mandatory jail time if it occurs within 10 years of the first offense and a third offense DUI is categorized as a felony.
We are Highly Rated DUI Lawyers in Virginia Beach
While there are many DUI attorneys in Virginia Beach, we set ourselves apart by zealously defending our clients, treating them as individuals, and fighting for their rights. Don't just hire any DUI attorney in Virginia Beach. Hire a law firm that has experience defending clients charged with DUI. Since Peter John Louie, P.C. was established in 2011, we have defended hundreds of clients charged with DUI and received more than 200 five star reviews on Google and other sites. Let us put our expertise to work for you as your DUI lawyers in Virginia Beach.
Partner With a Reliable Virginia Beach DUI Lawyer
Having support in your Virginia Beach DUI case is essential. Don't wait to get the support and assistance you need. Contact our team of Virginia Beach DUI attorneys today to be defended in your Virginia Beach DUI  case. Click here or call 757-932-0464 to schedule a free consultation today, and let us be your Virginia Beach DUI attorneys.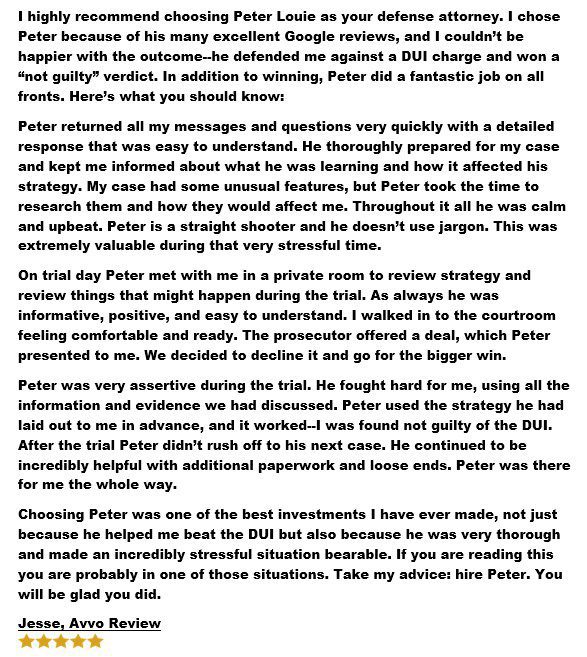 for a free consultation on your DUI charge