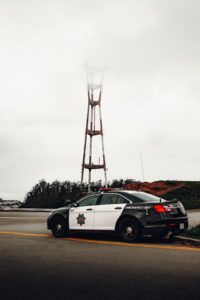 What may originally have resulted in a reckless driving ticket charge for a driver in Virginia Beach may result in additional charges against the driver.  According to WTKR, a man was driving a Ford SUV at a high rate of speed when he drove past a trooper operating stationary radar at Battlefield Boulevard. The trooper attempted to pull the vehicle over, but the driver continued at a high rate of speed on I-64, and eventually struck two marked trooper vehicles. The driver then proceeded to run on foot before he was apprehended by troopers. My guess is that the man will be charged with reckless driving (by speed or for endangering life and limb) and for eluding police under Va. Code § 46.2-817. It is a Class 2 misdemeanor to elude police, although it is a Class 6 felony if the driver's operation of his vehicle endangered a person or endangered the operation of a law-enforcement vehicle.
The lesson to be learned: do the opposite of what this man is alleged to have done. When a Virginia Beach Police Officer or a State Trooper pulls you over, be sure to pull over quickly and in a fashion that allows the officer to approach your vehicle without endangering himself. Always be courteous with the officer, even if you disagree with the reason for the stop. Courteousness with the officer goes a long way and angering an officer is counterproductive for the day of your trial in court. It would be wise to keep your hands on your steering wheel and if you are carrying a handgun, let the officer know if you are open carrying or if you have a concealed carry permit.
Finally, always remember that what you tell the officer can be used against you in court. For example, if the officer plans to charge you with reckless driving by speed and asks you, "Do you know why I pulled you over?" and you answer, "I thought I was only going 8 miles over the speed limit," then you just admitted to him that you had knowledge that you were violating the law. In reckless driving cases that arise due to an accident, police officers often share a driver's statements in court, which may include admissions by the driver concerning his liability for the accident. Drivers can dig themselves a hole in how they interact with police and what they say. Don't lie to law enforcement, but remember that you are not required to say anything at all.